10 SMART products we don't really need to pair to our phones
Everybody seems excited the current overwhelming 
SMART revolution
 but the fallacy is that far from helping us, all these new products (called Smart) are actually at the heart of our 
digital devices addiction
. 
We've collected a list of
10 smart products
that we believe don't really add any value to us. Think about it? Do we really need these products to be paired to our phones? What's really the point but keeping us hooked on our smartphones?
1- AROM: Beginner's Smart Gadget - Aromatherapy, Scent Layering.

AROM
was created to enhance your quality of life. It will add sensory luxuries to your daily routine which you won't believe you had never lived without. AROM's fragrances are therapeutic and connect you to the moment by helping you create stronger and more pleasurable memories. "Share the Scent" through AROM's mobile app.
2- Plantone: Smartest Mini Indoor Garden. 

With the Plantone mobile app, you can adjust the lights remotely and create custom light schedules. It's totally up to you, for example, it can be 17h day & 7h night to total 24 hours or 3h day & 1h night.Also all light settings are stored in the integrated microprocessor so even if there is a power outage you won't lose any settings.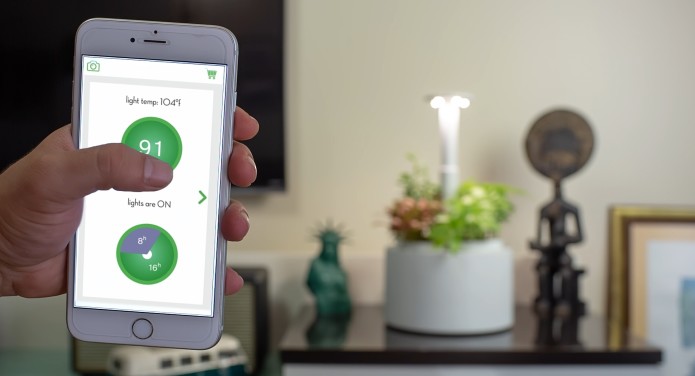 Plantone Diversity is equipped with a sensor package including temperature, humidity, light level (photodiode) and air quality (co2 sensor is only available with the premium pack). It also has and intergraded WiFi and Bluetooth chip as well as an internal real time clock to keep time for your custom light schedules. 

3- Dreamlight, the world's smartest sleeping mask


Dreamlight is a smart system to help you get better sleep. - Comfort is our top priority: Having already tested our mask on hundreds of beta users. - Light therapy can calm the user into meditation, optimize for a deep sleep & remedy jet lag.  - Sleep-aid audio helps users transcend into a relaxed state. - Genetics is a factor that regulates your sleep. With our DNA-data partner, we can better determine users' sleeping habits and offer customized recommendations for sleep improvement.




4- 
HyperCube: Wireless Charging Station & Sleep Aid


HyperCube is a patent pending, award-winning wireless charger. Packed with more than 13 smart features, HyperCube also acts as a sleep aid, wake-up light and alarm clock – all while wirelessly charging up to 3 Qi-enabled devices at once.




5- Kasa Smart Wi-Fi Light Switch by TP-Link - Control Lighting from Anywhere, Easy In-Wall Installation (Single-Pole Only), No Hub Required, Works With Alexa and Google Assistant (HS200)


Control your lights, ceiling fans, and other fixtures from anywhere with the Kasa Smart Wi-Fi Light Switch. The smart switch installs as easily as a traditional light switch, and connects to your home Wi-Fi in no time through the Kasa Smart App. Kasa Smart also lets you manage connected fixtures with your smartphone including setting schedules. For added convenience, you can use your voice to control the smart switch when paired with Amazon Alexa.

6- GoTenna Mesh | Two Off-Grid SMS & GPS Devices 


GoTenna Mesh pairs to your phone and enables it to privately relay texts and GPS locations between other goTenna devices, up to 4 miles in range. You don't need phone service, routers, towers or satellites to use goTenna. Power your own network, whenever and wherever you need it. 

It seems it's not possible to go Off-Grid anymore. Thanks GoTeena :-)

So here we have 6 and we hope with your help we can make 10.  Please, leave your comment with any Smart Product you feel we don't need and we will add it to the list.